So they start to let us in and in the middle of the que is a lady with a baby! A real live infant in a stroller! Shes not even 6 months old! And I'm gonna admit I am judging that mother so hard at that time, I even say to Maia, your kidding me she brought a baby to see Adam???
All I could think off was that Adam will not appreciate a whaling kid interrupting his acoustic set!
But yeah we did not need to worry, her +1 was walking the halls outside with the baby! \o/ So sorry Lady Mom but yeah I did judge you, and I am pretty sure I was not alone in doing so.
Maia got up just down from the stage on Tommy's side, she could reach out and touch him if she wanted too she was that close.
People where sitting on the floor in front of the stage in 3 rows. Like this.
I was just behind them on Tommy's side and was sitting leaning back halfway on a pillar with seats in front of it.
Behind me where two guys talking, I think they where from the radiostation, one said.. you have to ask permission though before taking a picture. So I turned around and went, Huh is Neil here??
They did so NOT get it!
They looked at me like.. Uhhhh what is wrong with you!?! Who the fuc* is Neil?
So I snickered and said Oh NVM! And turned around from them.
Anyway with them in my back I though I won't dare to ninja take videos! I'll just have to take pics. So I did.
Girl comes out and talks and introduces Adam, said he had complimented her shirt and that had made her whole day lol
She keeps talking about Adam and asks us some questions about him then she tells us that were all gonna get our pics taken with him after the show whohooooo and its gonna be done 4 and 4 with Adam, hes in a hurry to get to the next place he needs to be. Then she looks to the back off the room and says, Adam? Are you ready? And we hear him say Yes! So we ofc starts screaming and cheering and out they come.
As you seen in the video from maajabaja, Adam first Tommy right behind him.
Adam gets this picture from her,
Then he shows it off some more and hand it back to her and looks at the stool, and says,,, hmm how am I gonna sit on that thing? We laugh, Tommy laughs!
Then he sits on it and says, as you heard in the video again by maajabaja, Oh they gave me a happy triangle to sit on.. yeah more laughter!
The chair hes sitting on is quite common in hospitals/dental offices over here, and the chair they had given Adam is the women one LOL! Its tilted up more in the front, so yeah I am sure that when he sat down on it, it hit him in his jewels! And thats what made him say they gave him a Happy triangle to sit on OMG TO FUNNY! The male versions of the chair does not tilt up in the front like that!
Here Tommy talks to Adam and we find out that Tommy's guitar was not hooked up to the sound system or whatever, so Tommy told Adam and Adam spoke into the mic and said, we got no guitar.. then looked over at Tommy that kept hitting the strings until he got hooked up. Then Adam goes, there we go now we can start.
Then they start Fever.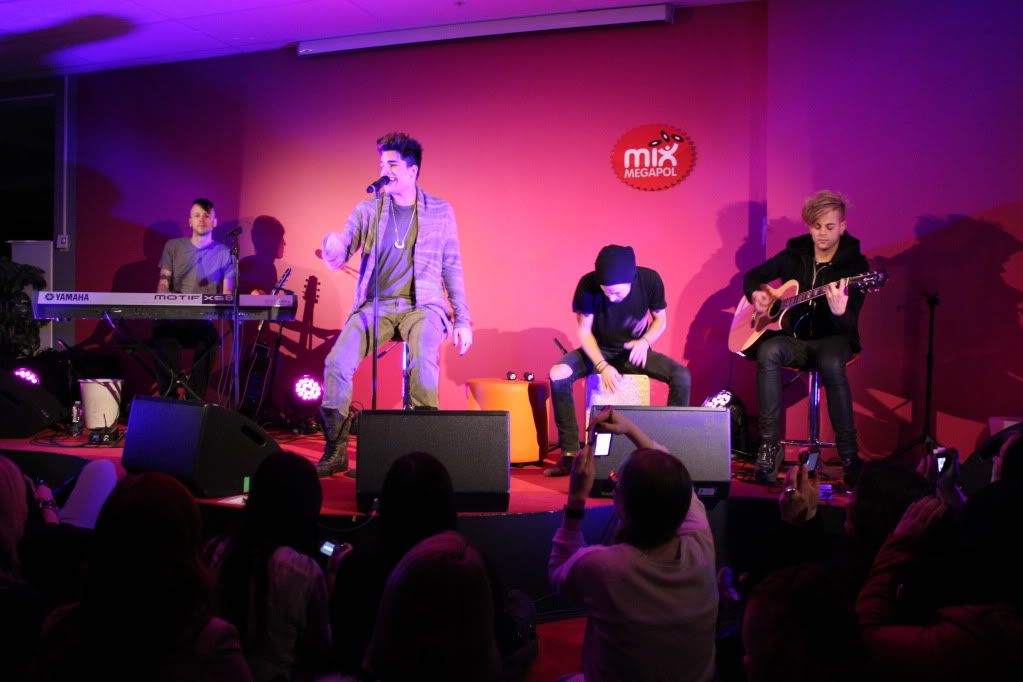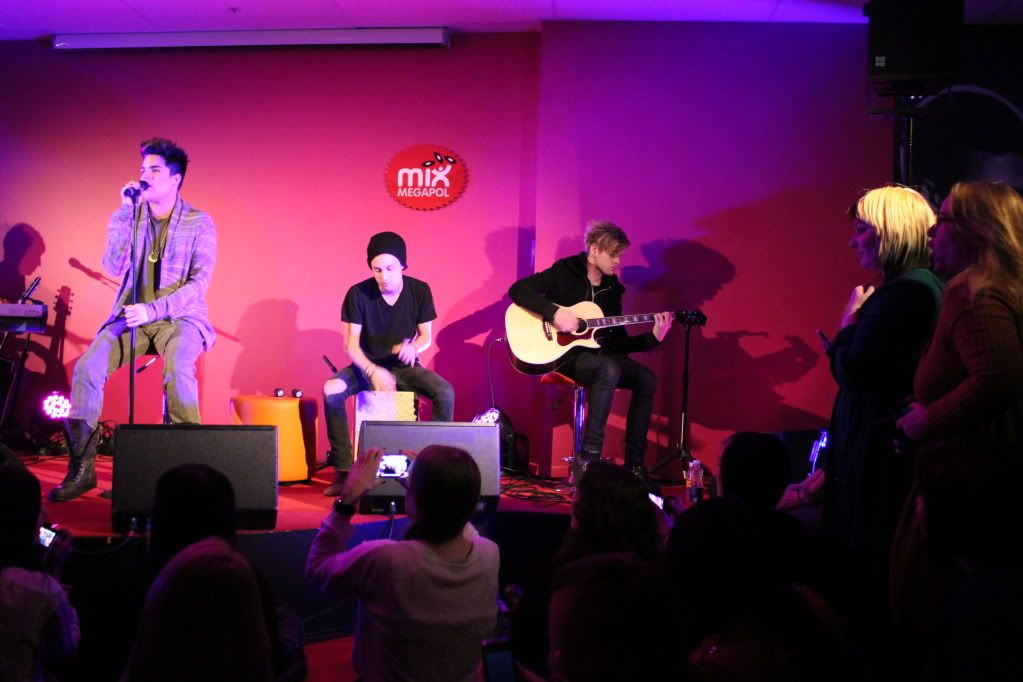 Fever over, and Adam goes all Can you give me some more reverb, and says to us, its all about the sound! Gotta get it right, as you can hear in this video from xiamei
You can see Tommy's and Isaac's smile while he does it.
Then Adam introduces BTIKMS and off they go..
There where lots of cute looks between Isaac and Tommy, and some chatter between them all set. Here is one of them looks. You can tell these two are really close :)
Here is just a pic off Adam stooldancing and Tommy stool um swinging lol kinda..
Song over and Adam again goes.. can you give me some more 'whatever it was' and not so much reverb on this one, I get shouted at in my ears.. which I totes don't get as hes not got earthingys on him. And again Tommy and Isaac is smiling while he does it.
Adam intros the next song, OOL, Same talk as he said in Austria.
And when he starts to sing it Tommy is all in his own world, as hes not playing from start.
Song over and Adam is complimenting the sound tech here! Ofc hes also asking him to fix something lol, saying stuff like.... turn some knobs over there or whatever it is your doing that makes me sound good!
And saying hes such a control freak, he said another word for it as well, but he said its important that its just right.
Tommy yawning! He is really tired, and sick.
Now Tommy got his jacket off, the top one I shall add as he had his hoddy underneath that one.
And Adam turns to Kevin and goes.. um what are we singing now? lol
And he gets it told to him and goes Ohh yeah ofc lol
Here is a song you all might know.. just might have heard of it.. and the first tune of WWFM comes from Tommy and all starts to cheer!
Here you can see that Tommy is drinking a Vitamine drink.
I am not sure what words he messed up on tbh, I have to listen to the song to see if I can remember what part it was, I know I was singing it and all off a sudden Adam was not saying what I was saying and it was NOT my fault for a change LOL
He leaned back, repeated what he had said wrong like WTF! laughed and sat up and continued the song.
This pic is just after it, you can see Isaac laughing, Tommy and Kevin are smiling!
Ok some more from WWFM you can see Isaac is still laughing, and Tommy is just starting up again!
And here the order is restored lol
Song is over and first thing Adam says is... you would think I would know That song huh!
He keeps talking here and I can't for the life of me remember what exactly he said, but it did involve telling us how cute we all where, how cute our cheeks where, LOL Yeah don't ask! and he got tangled in a mess some how wordwise and had Isaac and Tommy cracking up they started laughing out loud at one point. Even Kevin tried to help Adam out but it did not help much! To funny!
I am not sure if its here he tells us that it feels like were all in his living room as most of us are on the floor, but I think it is here.
Here is where Adam goes into becoming a Stand up Comedian!
I am not really sure how this got started, I think its to do with the soundtech lol but all off a sudden he started talking like a .. Mexican? Spanish? sorta mix person, calling it Eurotrash! He said its when your not sure from where they are but if you speak like that everyone will just understand you anyway.. and he went on about getting green salad.. at that Tommy laughed out loud!
Adam went on like.. oh Imma gonna go on and talk like this all the time.. and on and on .. and we were ROFL at him.. he sounded really funny!!
Hes standing up adjusting the mic and while doing it he keeps talking in that funny voice and changing it to different once! He is freaking hilarious!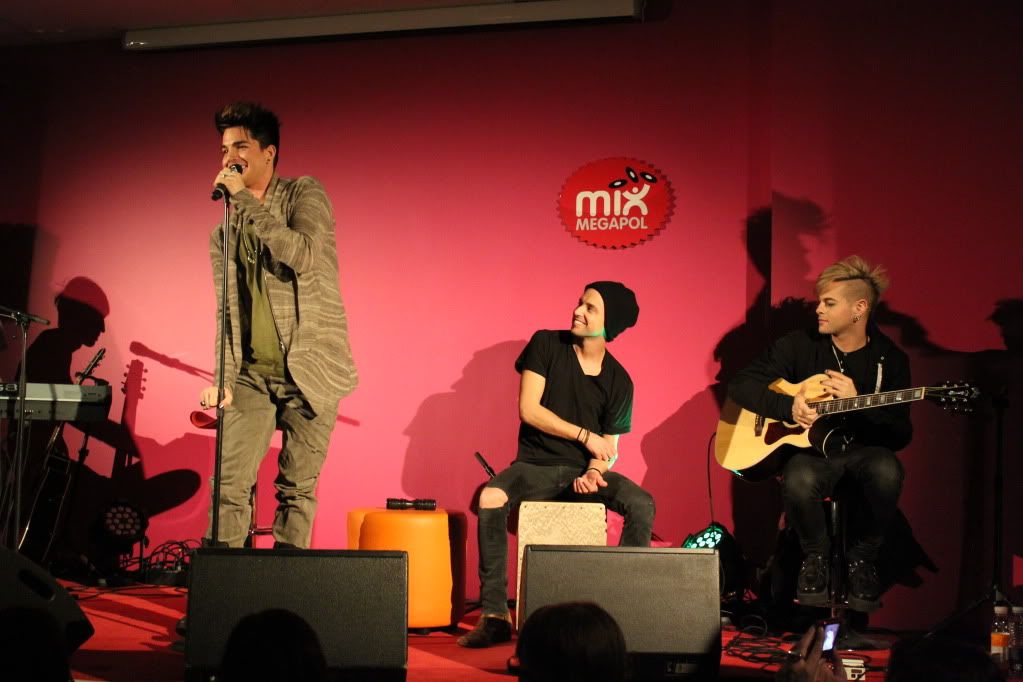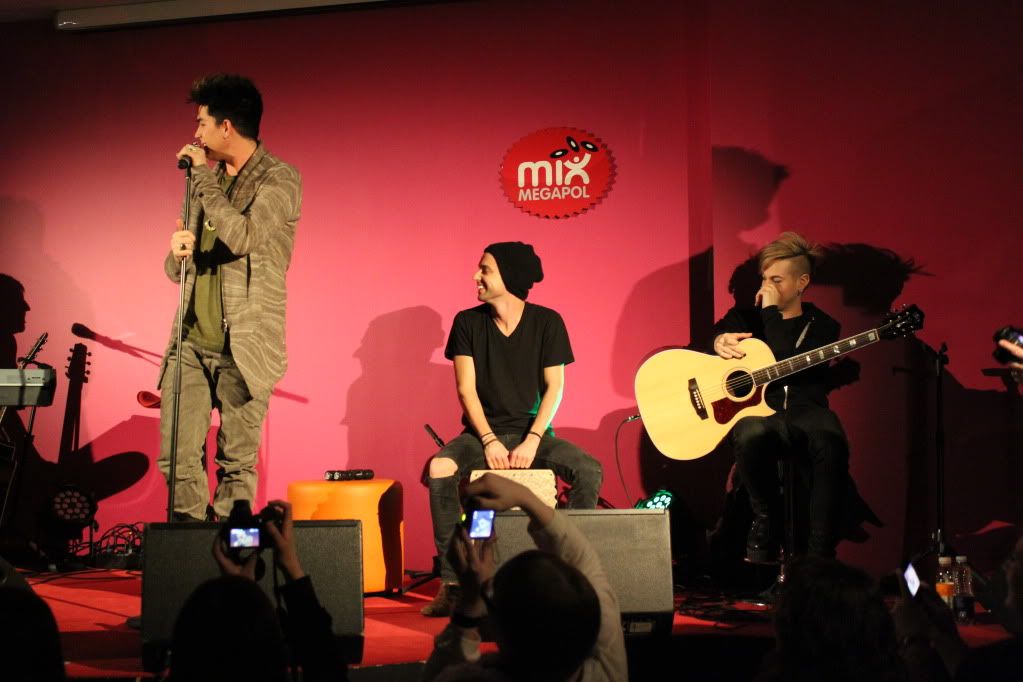 Comedy act goes one lol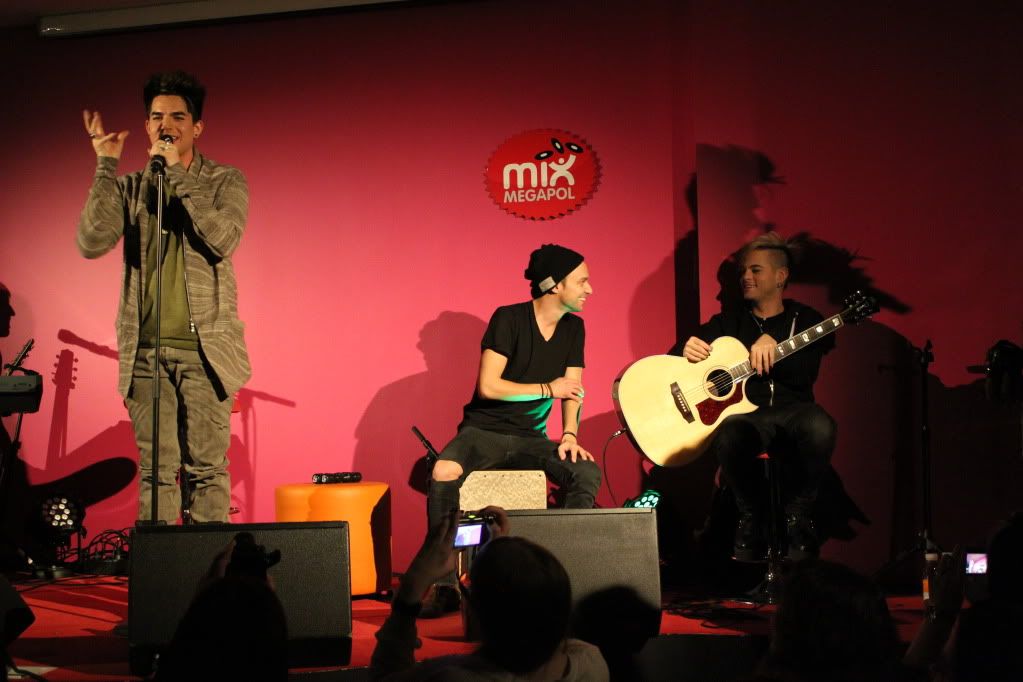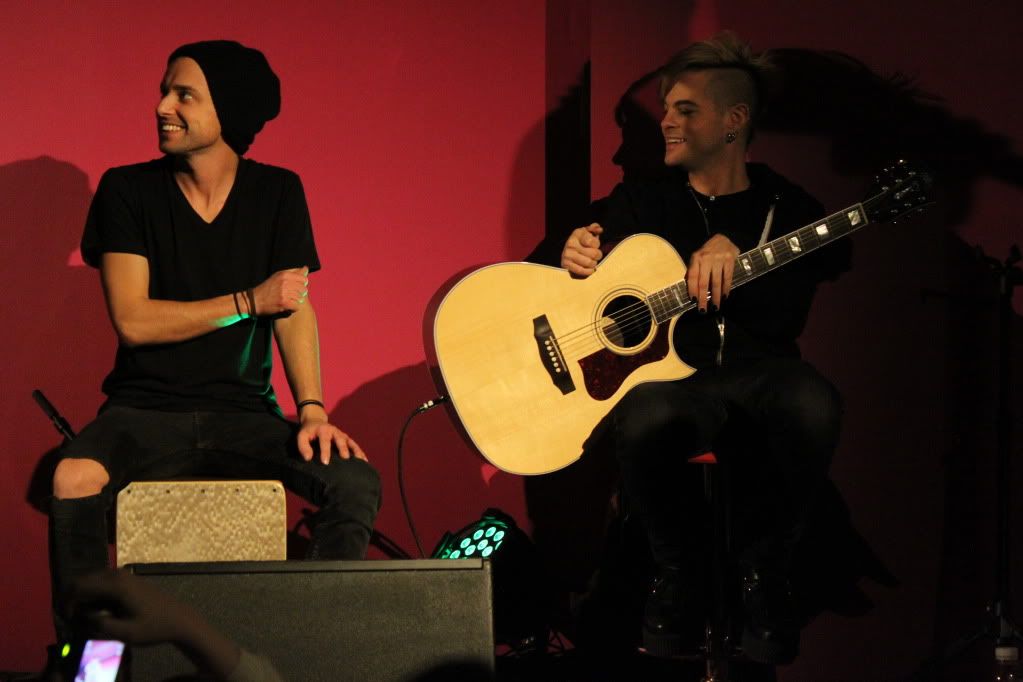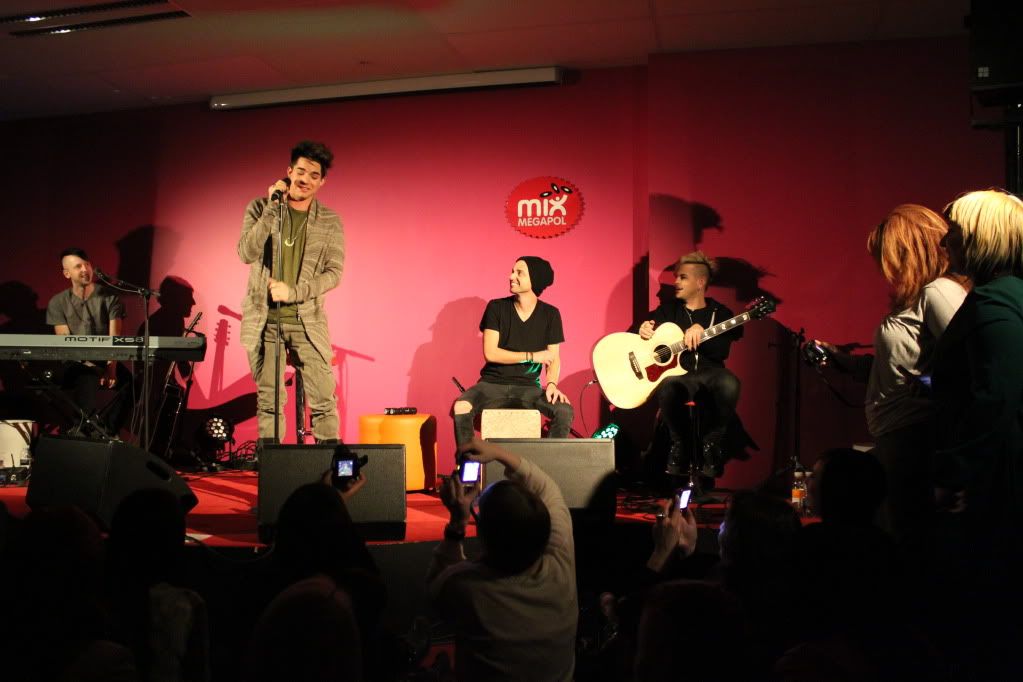 And then the mic breaks! The mic gets loose from the stand, and Adam goes Ummm I broke it! He tries to fix it, sorta talking to it lol then goes, I think this is universe way or telling me to shut up!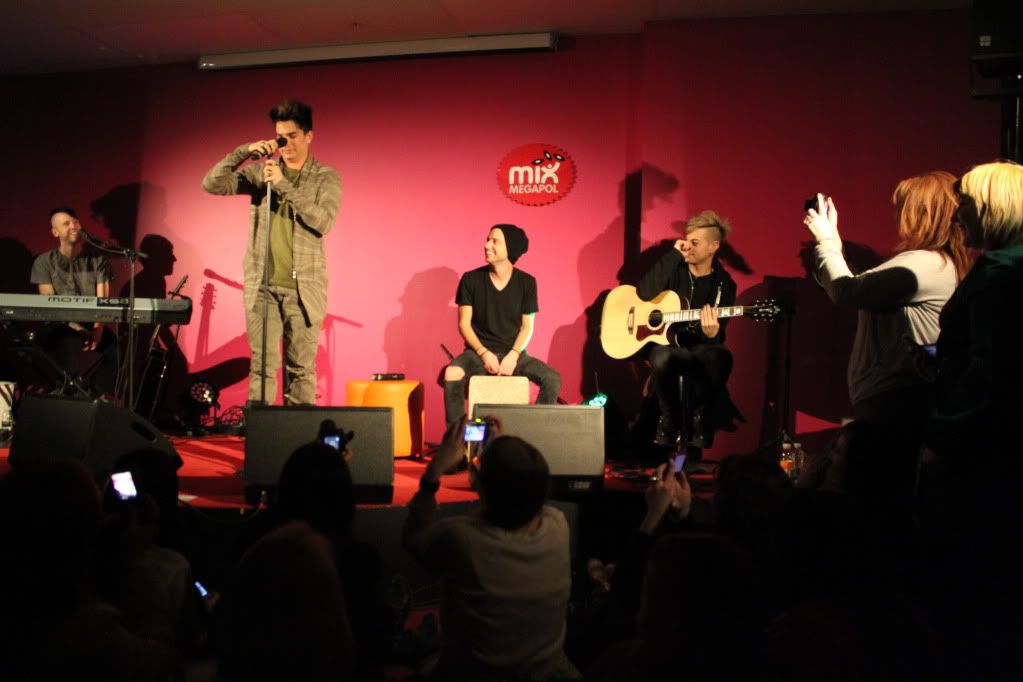 And he keeps trying to fix the mic, and non is coming out to help him so he keeps at it. Saying.. yup its telling me to shut the F* up for sure!
Then he just gives up on the whole thing and tosses the mic holder thingy on something behind him LOL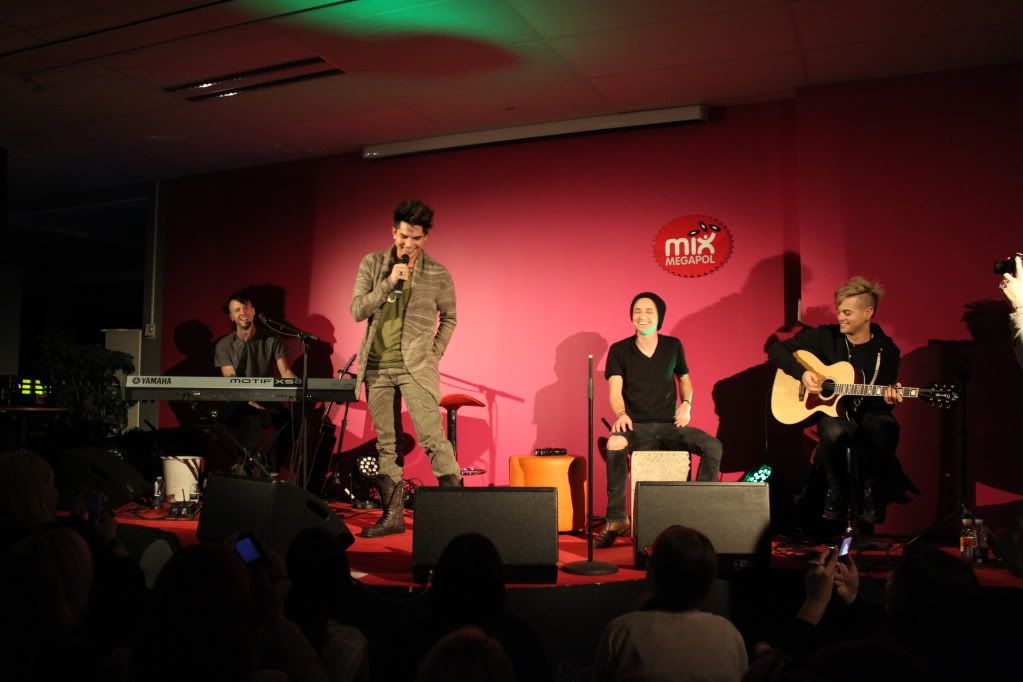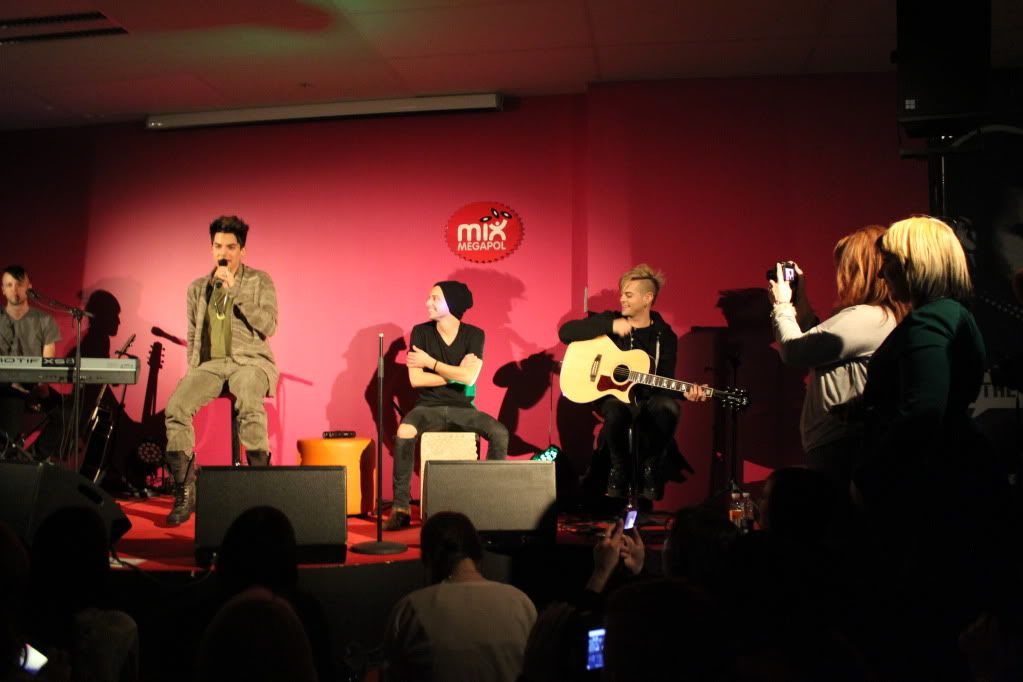 Then he intros Trespassing.
And OMG its so good!
In the middle sorta, he stomps his feet and then claps, then he tells us what to do and when to do it. Most people do.. not lazy old me Imma busy snapping pics over here thank you very much!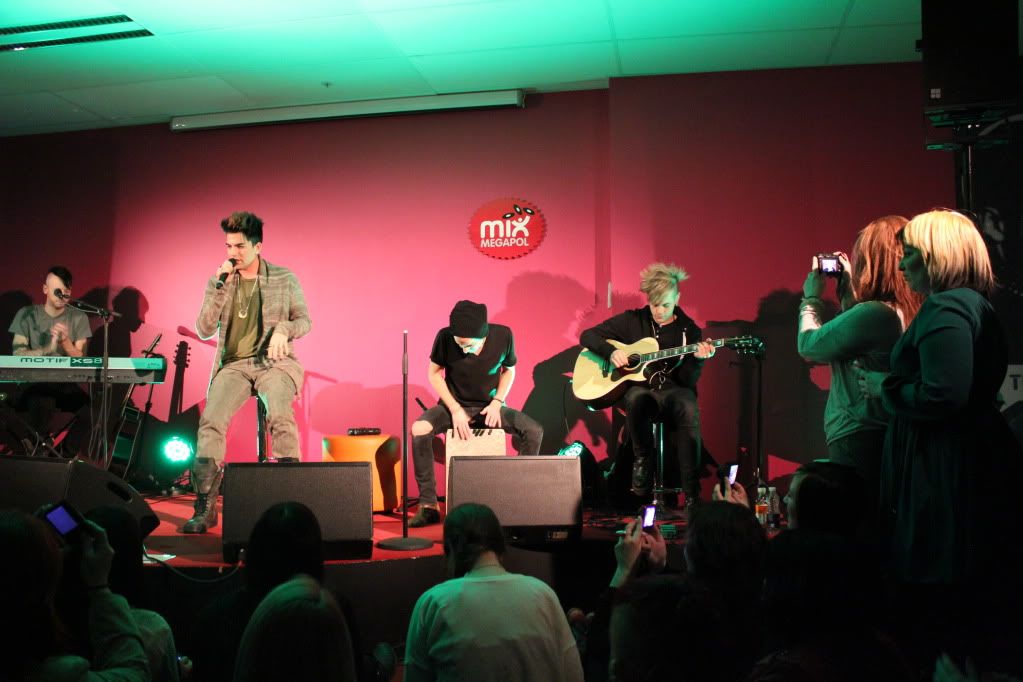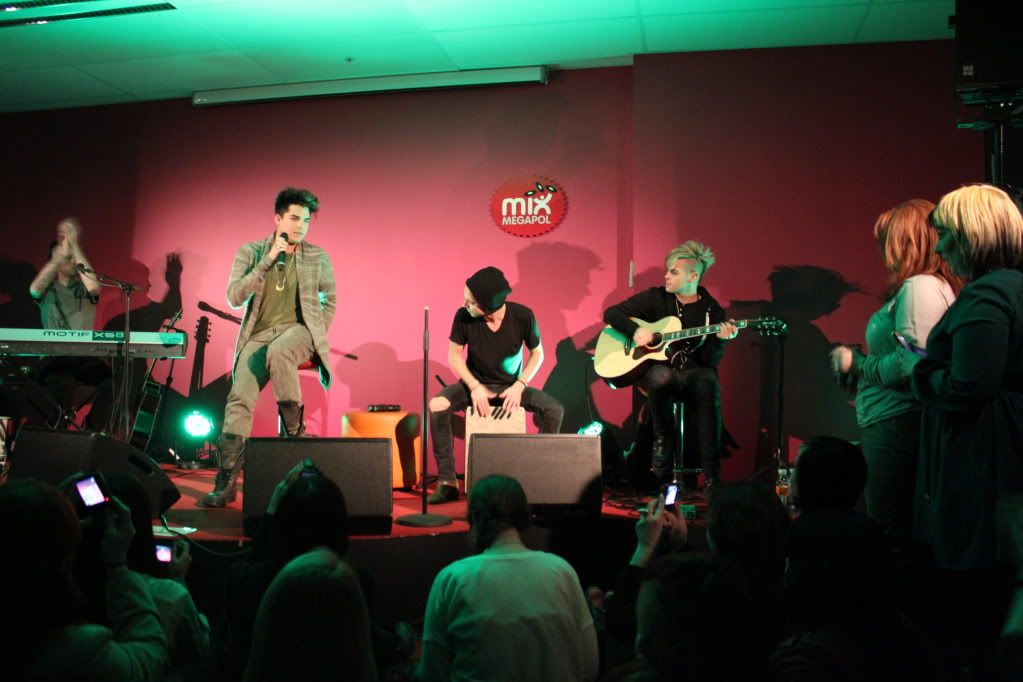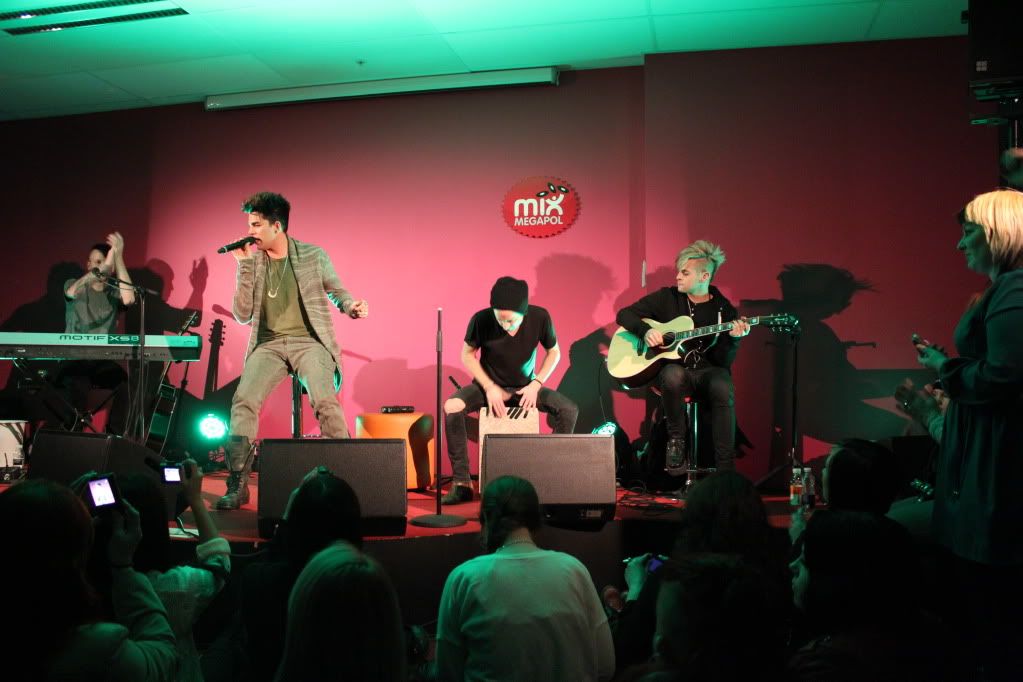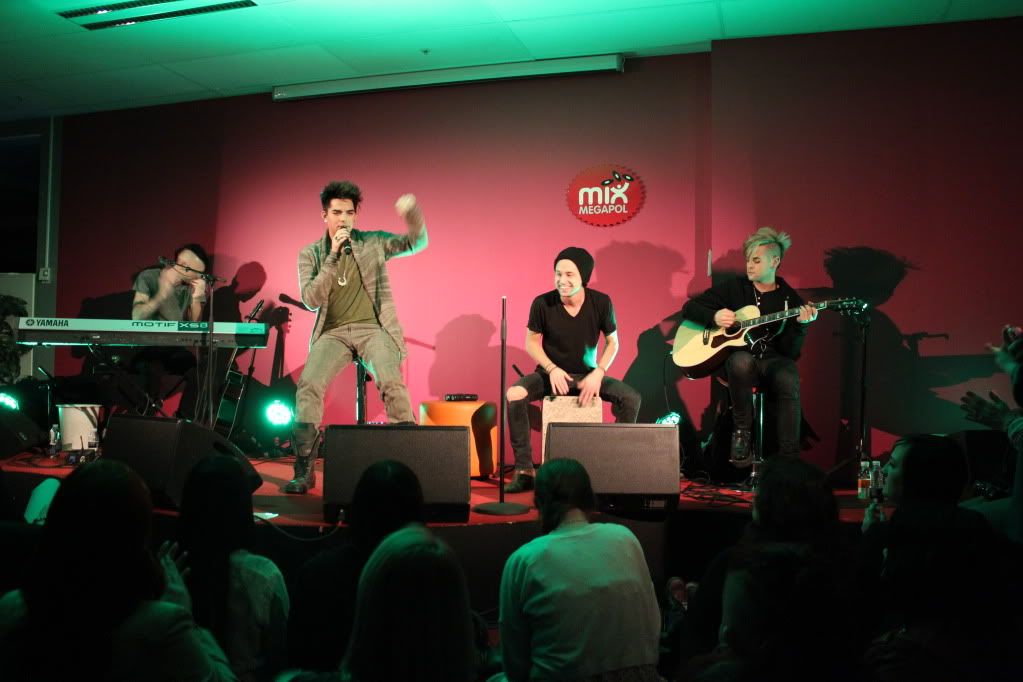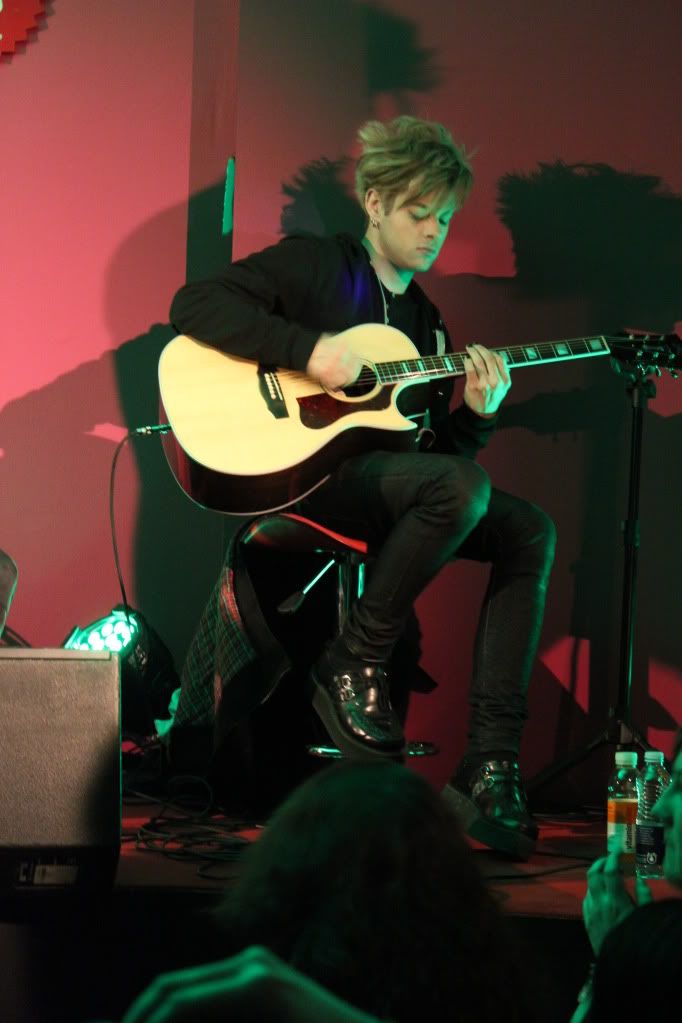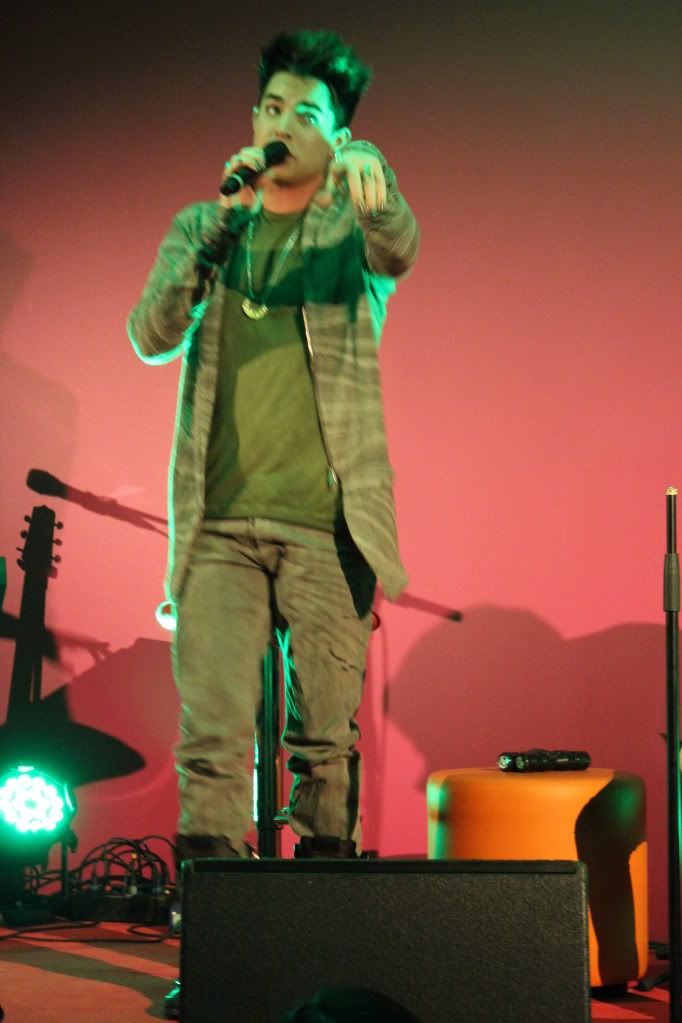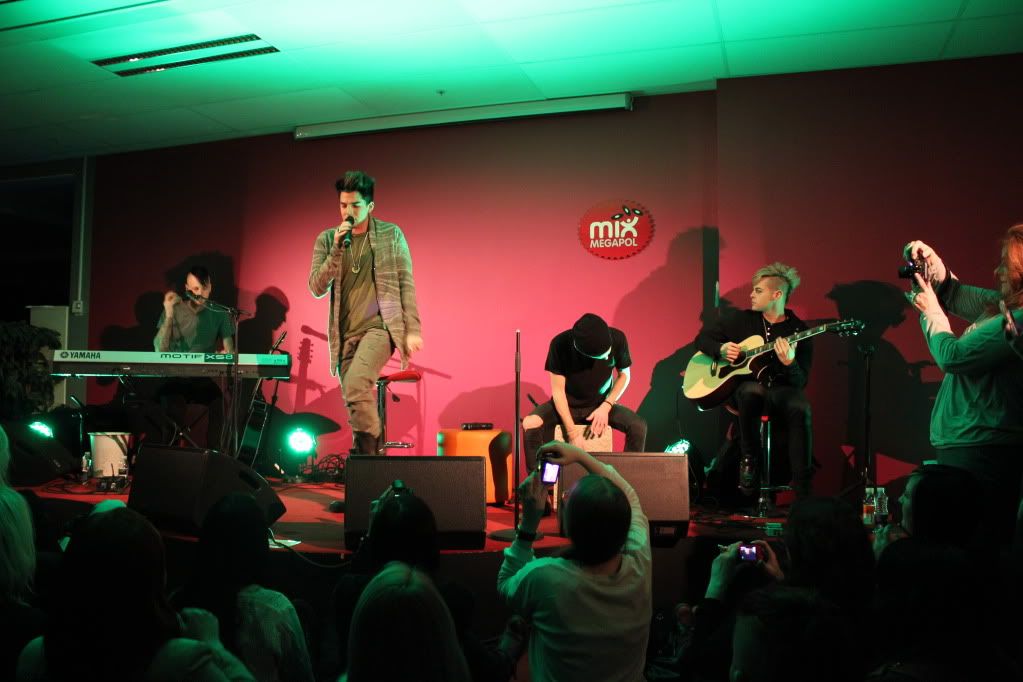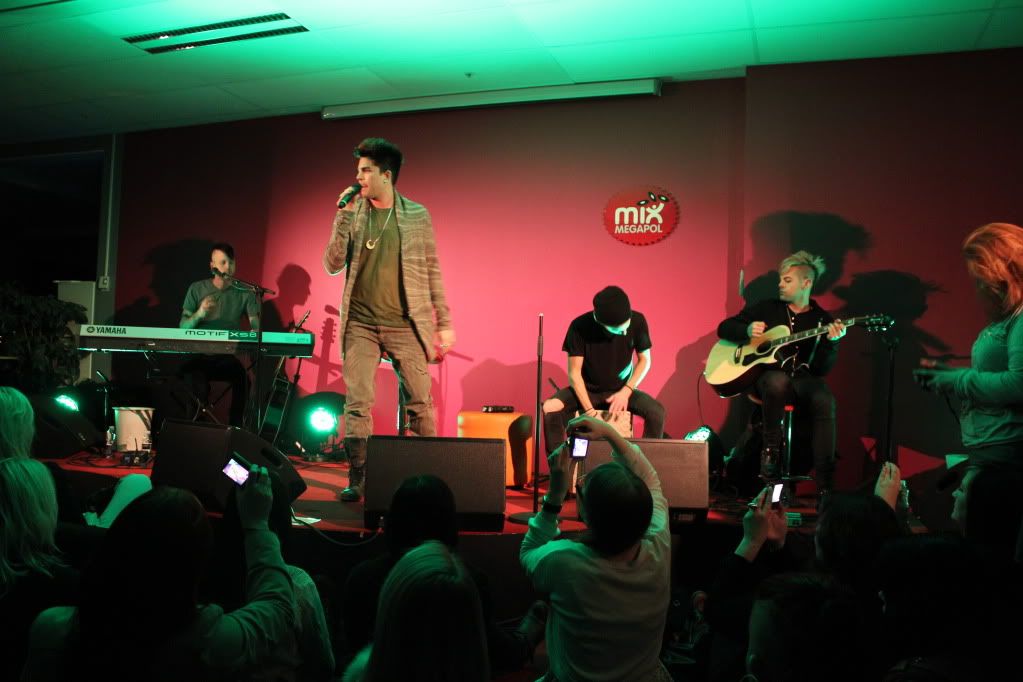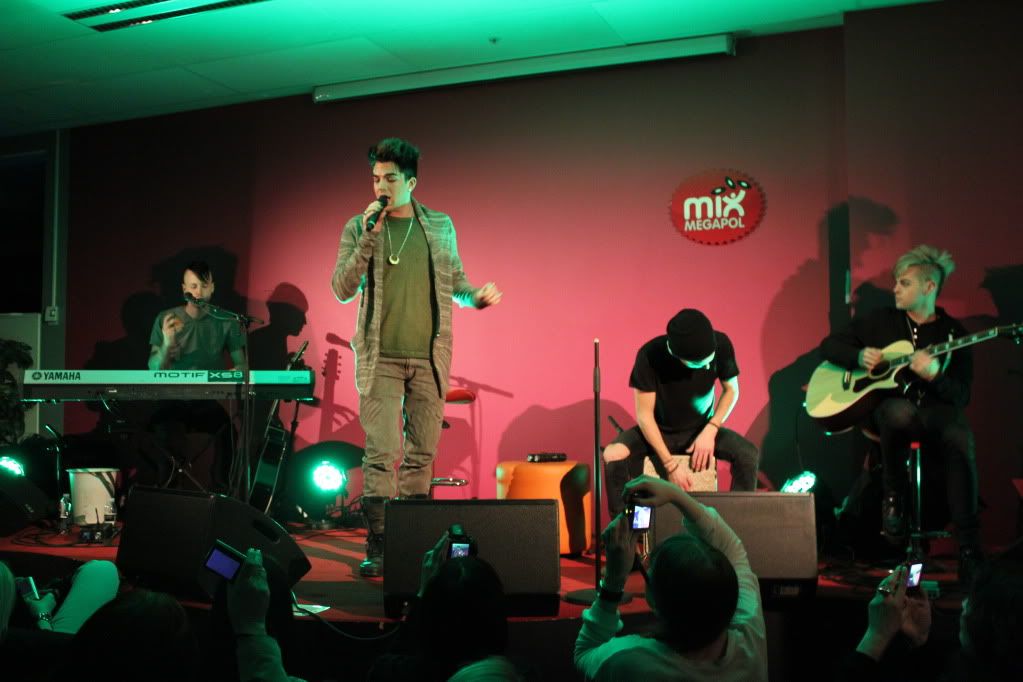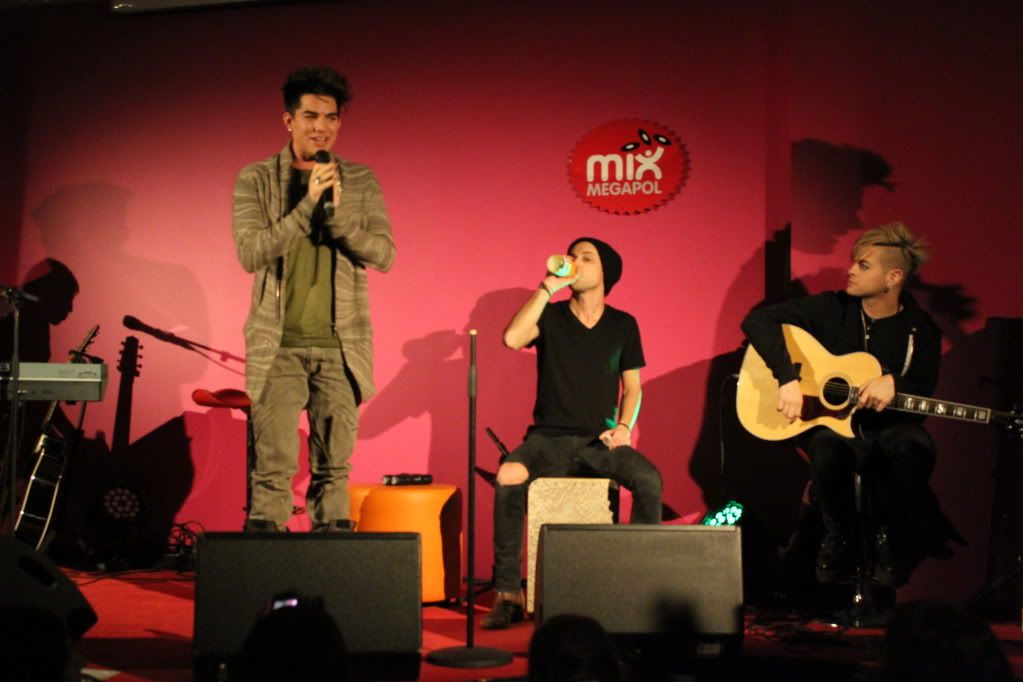 And show is over!
Way to fast, just when you got into it its done.
Then hes gonna introduce the band so he looks over at Tommy and points to him saying Thats Tommy
Then over to Isaac, I am almost sure that he does point to Isaac and Kevin too but I missed it.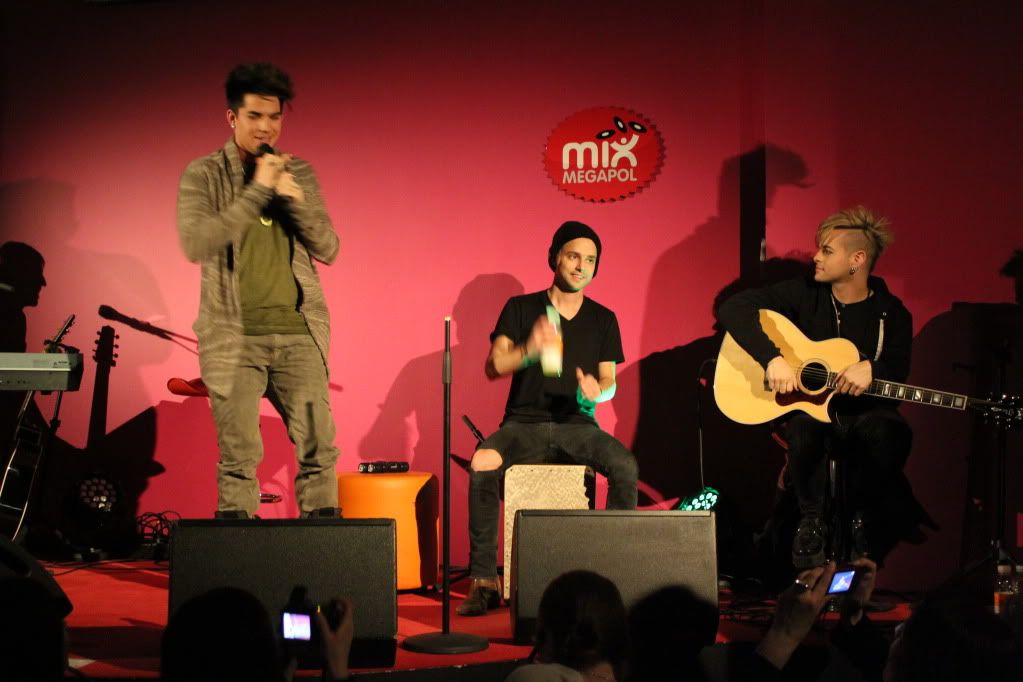 And then Kevin
Adam thanks us all for coming and goes of the stage, followed by everyone but Tommy that lingers on stage for some reason lol
He then goes off it.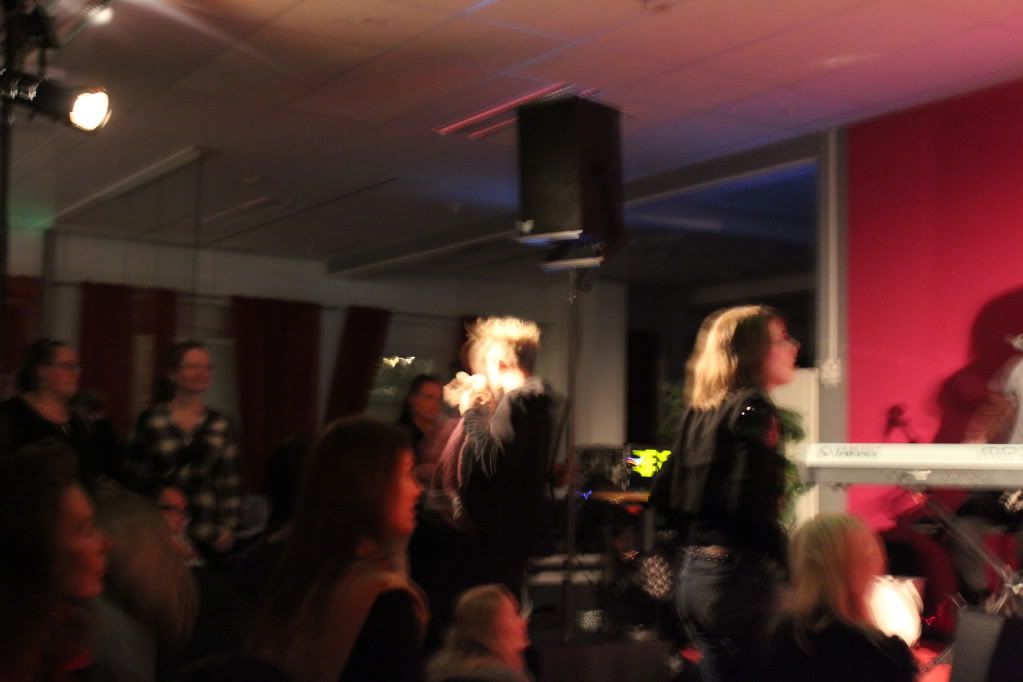 And we all head towards the door to have our pics taken with Adam whohooo.
We get reminded were gonna get them 4 and 4 with Adam to have it done as fast as possible as he has to leave as hes got other things to do.
We ask the pair behind us if they can take pics of us with our cameras and they says sure we'll try. I then hear that the dude is not gonna have his pic taken with Adam.
But we get there and the lady goes, you 4 is next so we take the camera back, but I hand my camera back to the dude saying your not taking your pic with him so here is my camera take pics of us in stead and showed my camera at him lol oups!
So we get up there I drop my stuff on the floor where I'm told to do it at, I don't see the band leaving at this point but I'm told that is when they got out. And then I turn around and Adam is just standing there, so I walk up to him and goes Hiya. He says Hiya back and tosses his arm around me and the other around Maia and we take our pic. They took 2 of us, just to make sure at least one is ok I guess. Where about to leave and I ask Adam if hes going back home tonight, he looks at me and says Noo stuff to do tomorrow so not going home yet.
Then I say bye to him and we walk off.
So were going down the elevator wondering if there is a chance to see the band, and we get off the elevator and there is Tommy taking a pic with some girl. YEY!
I hear him tell her they have things to do tomorrow and then he says, sorry I have to go and heads out the door.
So me and my friend speeds up and I sorta half run after him, hes loading his guitar into the back of the cab buss, and I say to him, sorry but could I get a pic with you before you leave?
He looks at me and goes, oh ofc sure and comes right up to me and leans into me and looks over at my friend thats trying to work out how to get my camera working. It takes a while so were just standing there.. Thank you Maia lol... and then the pic is taken and Maia says she wants one with him and he stands beside her and I take the pic.
And here is the pic with me and Tommy but I cut myself out of it.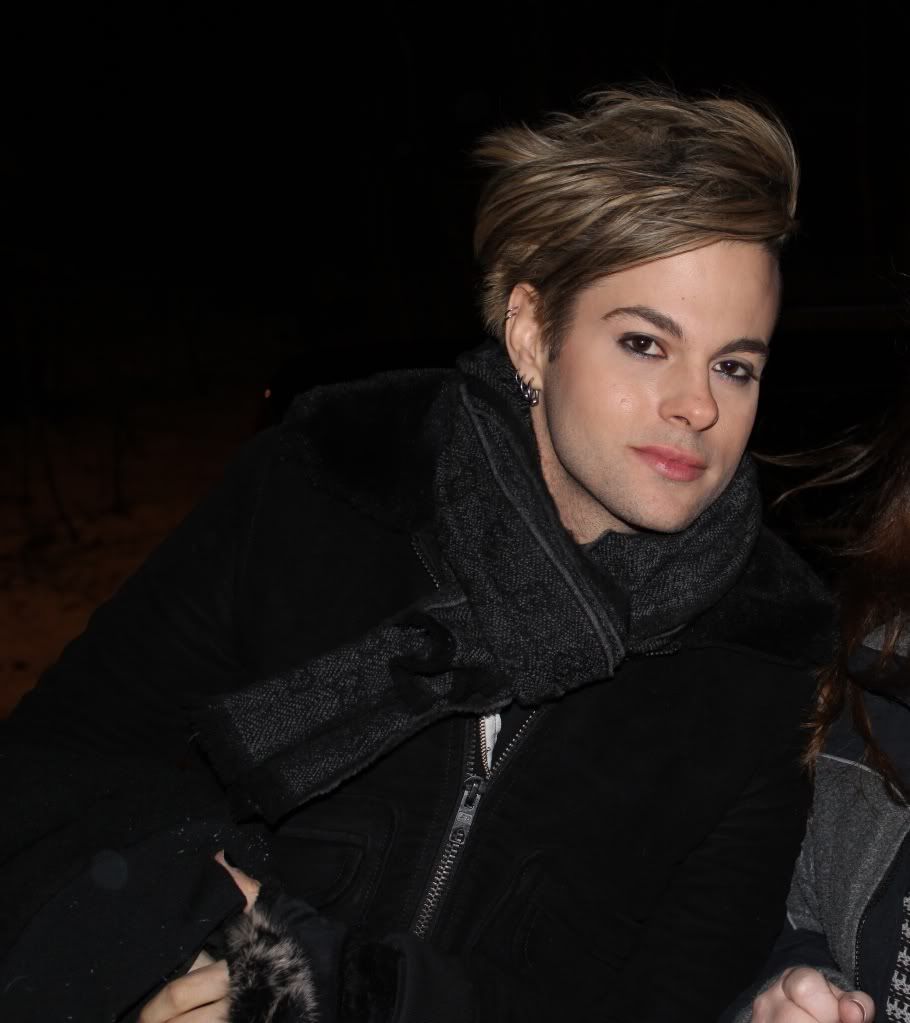 The car door opens and I see Kevin waving inside so I say Hiya Kevin and then Tommy is inside the car and they driver or whoever says something to them inside and closes the door.
[
The driver gets in and off they go.. to do a U-turn.. where the driver gets stuck ROFL hes trying to back up .. and ofc there is this bus right there and the cab is smack in the middle of the road stuck on the ice.. and yeah I got a pic!
Then they managed to get out of it and they where gone!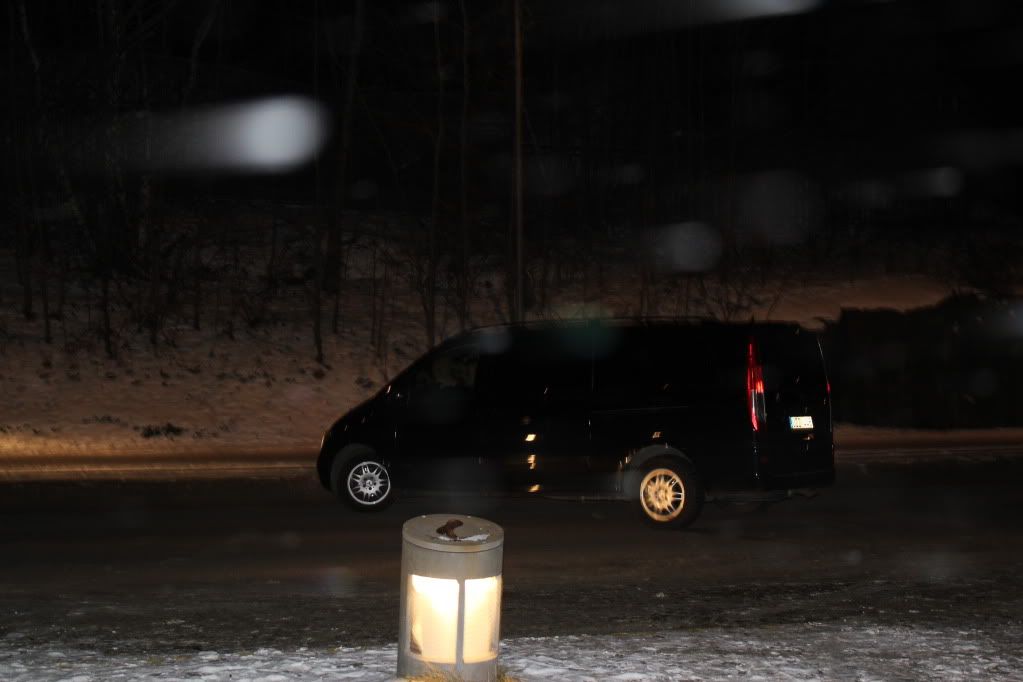 So get to my car and Maia goes to the subway, after I get up on the freeway and closing in on Arlanda airport I see a bic cab swirling across the lane, heading over the warningline on the side of the road.. then heading back in to the middle toward the second lane.. and the cars behind it is hitting there breaks.. and I'm thinking wow how drunk is that dude!
After hes done this a few times I think I better call the cops on this dude if hes gonna be on this road, its heavy traffic here. So I get ready to pic up the phone.. then I get close and go HOLY SHIT thats the band car! Tommy is in that car! The whole freaking band is in that swirling car!!
WTF do I do now, I can't call the cops on him! So I start filming him! Don't ask me why, I had the phone up already and the camera is one button push so I just hit it...
But I don't have a extra memorycard in my phone so it did not tape much, and they got close to the exit for the Airport and did not have far to go at that point. So they turn off at Arlanda, to get to them hotels I guess.
I write down the licenseplate as I know I have a pic of the car when they got stuck in the U-turn after Tommy got into it, I'm thinking I'm just gonna have to look to really see if its the same car.
And it turns out it was not the same one!! Thank god for that!!
But for 2 h I sat there driving home thinking they had a drunk driver at the wheel of there car!
It was HORRIBLE!
Anyway, overall impression of the night is Amazing!
Even though the band and Adam was not feeling well they really gave a great show!
Oh at one off the times Adam talked to the sound tech he told him to turn the guitar up!
Next time he said.. no not the guitar my mic and pointed to it.. lol
And the pic with Adam was a really nice surprise and then to get one with Tommy as well was just amazing!
I have a great time, and I have to thank Maia again for again taking me with her!
So I got there before Maia and sat down and waited for her, more and more people showed up, but we where not many at all. Im gonna guess max 100 people.